10 Best Honeymoon Destinations at Christmas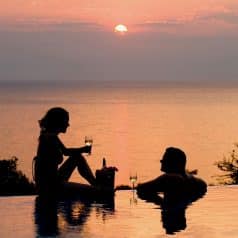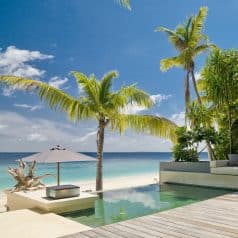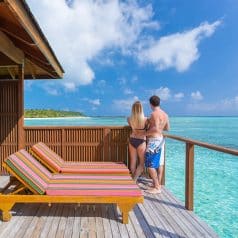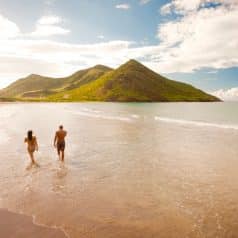 Where to go on Honeymoon at Christmas and New Year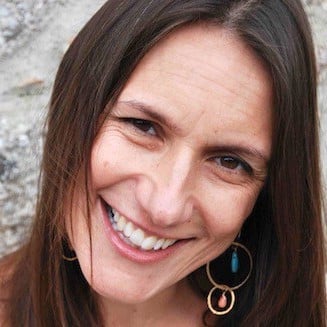 By Jane Anderson, Editor
---
Honeymoon at Christmas? Surely the idea is unthinkable. This is a time of year when you should be warming your toes at home, or exchanging pleasantries with the in-laws. But many newlyweds are now scheduling their honeymoons to coincide with the holidays over the Christmas and New Year season – even if they don't get married during the festive period. Here are 10 of the best destinations.
Click on the links below to find out more about prices, deposits and booking policies.
---
Maldives
Average highs at Christmas: 30ºC
Average daily sunshine: 7 hours
Flying time from UK: 12 hours
Think of honeymoons and the Maldives immediately spring to mind. Scattered around the Indian Ocean are tiny, jewel-like islands with white sandy beaches, impossibly clear waters and vivid coral reefs. All-inclusive holidays offer the best value, ranging from three-star resorts to five-star luxury. Keen scuba-divers should head to Meeru Island Resort and its dive centre. For a truly exotic honeymoon, combine the Maldives with a visit to Sri Lanka in this twin-centre holiday.
Kenya
Average highs at Christmas: 32ºC
Average daily sunshine: 9 hours
Flying time from UK: 8 hours 30 minutes
A safari honeymoon in Kenya – finished with a few days in a dreamy Indian Ocean resort – is perfect for couples wanting to combine relaxation with adventure. Luxury safari lodges in the Masai Mara, Samburu National Reserve and other national parks let you get safely close to wildlife without having to rough it. Richard Branson's Mahali Mzuri safari camp has only 12 tents but comes with a pool and is set within the private Olare Motorogi Conservancy. A honeymoon combining Kenya with Zanzibar is one of the most satisfying ways of exploring East Africa. Or try a classic combination: South Africa and Mauritius.
Cape Verde Islands
Average highs at Christmas: 25ºC
Average daily sunshine: 6 hours
Flying time from UK: 6 hours  
This archipelago off the coast of West Africa isn't quite short haul but it's close enough. And as it's in the same time zone as the UK for half the year, there's no jet lag to worry about. Inexplicably, the islands' fascinating combination of volcanic landscapes, white-sand beaches, sweet fishing villages and a Portuguese-African-Creole cultural mélange hasn't really been discovered. Sal is one of the most popular islands for holidaymakers, with a large range of beachfront resorts. The new five-star Hilton Cabo Verde Sal Resort opened in late 2017. Boa Vista's beaches rival those of Sal's, and you can visit both on an island-hopping honeymoon.
Delhi
Average highs at Christmas: 22ºC
Average daily sunshine: 6 hours
Flying time from UK: 8 hours 30 mins
India's capital is a madcap assault on the senses but an exhilarating experience nonetheless. After a few days getting acquainted with Delhi's attractions, including the 17th-century Red Fort, honeymooners can join a luxury private tour of some of northern India's unmissable sights.
Tenerife
Average highs at Christmas: 18ºC
Average daily sunshine: 6 hours
Flying time from UK: 4 hours
Tenerife is so near (relatively) yet so different. The largest of the Canaries is an island of two climactic halves, neatly divided by Pico del Teide, Spain's highest peak. Tropical vegetation and luxuriant vineyards cover the northern half, while some of the island's most popular beaches are spread along the southern coast. For a peaceful, adults-only getaway, try RedLevel at Gran Meliá Palacio de Isora on the west coast. For sheer luxury – and a Michelin-starred restaurant – I recommend the Ritz-Carlton Abama which has an adults-only wing.
Iceland
Average highs at Christmas: 0ºC
Average daily sunshine: 1 hour
Flying time from UK: 3 hours
It's tempting to throw away the usual idea of a honeymoon in the sun and go for something more offbeat. Iceland fits the bill, and during the winter months you can gawp at the extraordinary spectacle of the Northern Lights from the comfort of a glass igloo. Take a whale-watching trip to see orcas gliding through ice-cold waters before warming up in an outdoor geothermal hot spring. A fly-drive honeymoon along Iceland's Route 1 takes you past more natural wonders than you can count – with waterfalls, volcanoes and craggy mountains seeming at every turn.
Grenada
Average highs at Christmas: 29ºC
Average daily sunshine: 7 hours
Flying time from UK: 10 hours 
Spices, chocolate and soft sandy beaches – Grenada offers a laid-back Caribbean experience on an island that doesn't have the overdevelopment seen in other parts of the region. Most of the resorts – along with the exceptionally pretty capital St George's – are on the south-west corner of the island. That includes all-inclusive adults-only Sandals LaSource, where you can wallow in your own private plunge pool.
Jamaica
Average highs at Christmas: 29ºC
Average daily sunshine: 7 hours
Flying time from UK: 9 hours
Exceptionally beautiful reef-lined beaches make Jamaica a top choice for honeymooners. But Jamaica's adventure playground isn't confined to its shores. Head inland to Blue Mountain Peak, where a pre-dawn hike is an intoxicating experience. For old-time 1950s glamour, savour the history of Jamaica Inn on a private beach in Ocho Rios. For a lazy exploration of Jamaica's island neighbours, a tall ships cruise takes you to where huge cruise liners can't reach.
Dominican Republic
Average highs at Christmas: 29ºC
Average daily sunshine: 7 hours
Flying time from UK: 9 hours
The Dominican Republic's palm-fringed, white-sand beaches, elegant beachfront resorts and stately colonial towns are enticing enough for honeymooners. They also offer superb value – with five-star, all-inclusive luxury at three-star prices – see a selection of the best honeymoon hotels and wedding venues. For the adventurous, there's a lush interior of rainforests, mangroves and waterfalls to explore. For pure romance, choose a stylish boutique hotel such as the Zoëtry Agua in Punta Cana.
Adelaide
Average highs at Christmas: 27ºC
Average daily sunshine: 9 hours
Flying time from UK: 22 hours (one stop)
Sophisticated Adelaide is an excellent place to start an exploration of South Australia, where a honeymoon can be an alluring blend of culture, beaches and wilderness. Add to the mix a lazy wander through the vineyards of the Barossa and Clare Valleys, the irresistible sight of the animals that inhabit Kangaroo Island and an exploration of the vast Southern Outback. Try this Wildlife and Wine self-drive tour.
Last updated: 10 June 2022