10 Best Honeymoon Destinations at Easter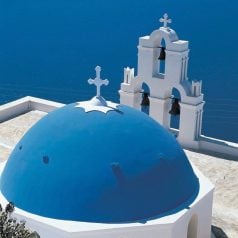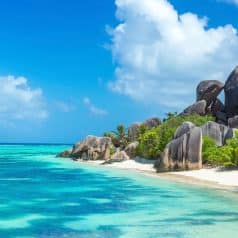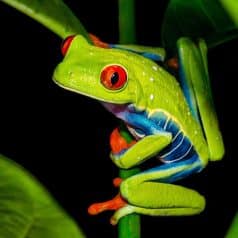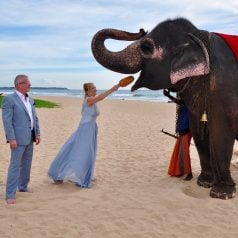 Where to go on Honeymoon at Easter 2022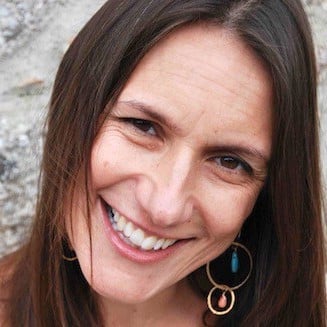 By Jane Anderson, Editor
---
Easter is a great time of year for a honeymoon. Many couples are looking at Easter 2022 if their wedding plans were delayed by the pandemic. Easter Sunday will be on 17 April in 2022.
You'll find a huge choice of honeymoon destinations, from sunny short-haul escapes and adventurous getaways to some of the world's most beautiful beaches. Here's my pick of the best.
1. Santorini
Average highs at Easter: 20ºC
Average daily sunshine: 8 hours
Flying time from UK: 3 hours 50 minutes
There's no sunset more famous than Santorini's, the deep blue of the caldera shading to gold every night – what more romantic way to end an evening? Add in chic hotels, atmospheric streets winding past the iconic white and blue of the buildings, plus the chance to hop to a few other Aegean islands, to make it even more tempting. Hotel Grace has the best views on Santorini, with nothing between you and the caldera but wild flowers, or you can hide away in your own romantic retreat in a little house for two, with its own private pool. Team it with a few days on Folegandros to escape the crowds completely, exploring deserted coves before drinks with a view at Anemomilos.
2. Madeira
Average highs at Easter: 18ºC
Average daily sunshine: 6 hours
Flying time from UK: 4 hours
From whale watching to mountain climbing, the lush tropical scenery of Madeira is ideal for an active honeymoon with plenty of timeless traditional luxury thrown in. Climb Europe's second highest peak or wander through a rose garden, go canyoning or snorkel and scuba, with year-round sunshine just a short flight from the UK. Belmond Reid's Palace is the most famous hotel on the island – don't miss afternoon tea, whether you check in or not. The historic manor houses called Quintas are also perfect for boutique charm; try Quinta da Bela Vista or Quinta da Casa Branco.
3. Costa Rica
Average highs at Easter: 27ºC
Average daily sunshine: 7 hours
Flying time from UK: 12 hours 40 minutes (excluding stopovers)
There are few places where you can explore rainforest, cloudforest, volcanic peaks and wonderful beaches all in one destination. But Costa Rica packs them all in, along with some stunning eco lodges and stylish boutique hotels, so there's a honeymoon to suit every style. If you like adventure, this Volcano & Cloud Forest trip includes trekking, white-water-rafting, zip lining and horse riding.
4. Seychelles
Average highs at Easter: 31ºC
Average daily sunshine: 8 hours
Flying time from UK: 10 hours
Visualise the ultimate honeymoon idyll, and it would look very much like the Seychelles. From barefoot luxury on the smaller islands to ultra-indulgent luxury at some of the bigger resorts, you can splash out and pamper yourselves in a way you'll never forget. Four Seasons Resort Seychelles, on the main island of Mahé is an exquisite resort while Raffles Praslin has superb Asian-style service. If you want somewhere more low-key, check on L'Archipel on the island of Praslin.
5. Sri Lanka
Average highs at Easter: 33ºC
Average daily sunshine: 9 hours
Flying time from UK: 10 hours 45 minutes
There's more to the Indian Ocean than beautiful beaches alone, especially with a honeymoon to Sri Lanka. As well as its own tempting coastline, you'll find unbeatable wildlife – the only place you can spot the world's biggest land mammal and its biggest marine mammal, spying elephants and blue whales in one trip. Or uncover the country's history at a string of Unesco cultural sites, with palaces and temples plus more recent colonial history on this Insider's Guide to Sri Lanka. Some of the best places to stay for honeymooners include Ulagalla Resort in the Cultural Triangle, Chena Huts in Yala and the Sisindu C in Koggala. For extra white sand beaches, combine a honeymoon in Sri Lanka with time in the Maldives for a twin-centre escape mixing culture and chilling out.
6. Madagascar
Average highs at Easter: 26ºC
Average daily sunshine: 7 hours
Flying time from UK: 11 hours 55 minutes (excluding stopover)
There's nowhere quite like Madagascar. From its unique wildlife and natural treasures to its little known beach escapes, a honeymoon on the fourth largest island in the world guarantees adventure. Discover some of its 200,000 species of flora and fauna, 80% of which are found nowhere else on earth, marvelling at lemurs and baobabs as well as Madagascar's mix of cultures. Get a taste of the highlights with a classic Madagascar honeymoon or create your own bespoke getaway exploring some of the smaller islands off the coast, such as Nosy Be. And for true luxury, Miavana on the private island of Nosy Ankao has the same level of indulgence as the more traditional Indian Ocean honeymoon islands.
7. Cook Islands
Average highs at Easter: 30ºC
Average daily sunshine: 12 hours
Flying time from UK: 19 hours, 45 minutes (excluding stopovers)
Who wouldn't want to be castaway on the Cook Islands? 15 islands scattered across the Pacific Ocean, this laid-back spot has some of the world's most beautiful scenery. Snorkel and swim in the pristine turquoise lagoons, explore lush green tropical forest on the volcanic ridges or visit the villages; even main island Raratonga takes only an hour to drive around. If you can tear yourself away from the romantic accommodation, that is. Hide away in one of twelve Sea Change Villas on the beach and lagoon, or indulge at the spa of Te Manava Luxury Villas. Less than an hour away, glorious Aitutaki is one of the South Pacific's best-kept secrets, home to spectacular reefs and Polynesian style at the Pacific Resort Aitutaki.
Last updated: 20 January 2022