Recommended company: Enchanting Travels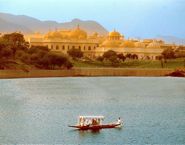 Enchanting Travels says
We're passionate about delivering authentic honeymoon experiences that allow you to feel and appreciate India for all her beauty and history. At Enchanting Travels we create unforgettable custom-made journeys throughout India, helped by the fact we have worldwide offices, cross-cultural teams who genuinely care about our guests, and experts on the ground.
Bespoke private tours
City and culture
Superb beach hotel
With stops in Mumbai, Udaipur and Goa, culture vultures, die-hard romantics, and luxury-loving beach bums will find this trip a perfect combination of big-city buzz, royal splendour and white-sand serenity.
For couples who've "been there, done that" around the world's capitals, Mumbai's population of 13 million alone can make other cities seem, well, sleepy. From the rich comfort of one the world's most iconic grand hotels, The Taj Mahal Palace, you'll spend three days venturing into the "Maximum City" with our expert guides. You'll get an insider's look at Mumbai's booming modern art and design scenes, entertainment and fashion industries, and sample the amazing culinary scene.
After the buzz of Mumbai, it's time to unwind for four days on the banks of the legendary Lake Pichola at the spectacular Oberoi UdaiVilas. Udaipur is the perfect place to explore the glories of Rajput warriors, browse their world-renowned jewellery and stone crafts, or just count the stars after an unforgettable spa treatment.
Last but not least are thee nights on the white sands of Leela Goa. No longer just for backpackers and trustafarians, Goa's raw beauty has been refined and rediscovered within the Leela's 75 acres of lush gardens and 1,000ft of powdered white sand.
Your own interests are the best compasses to follow. Contact Enchanting Travels to start designing your own custom journey.
Find the best time to visit India.
You may also like:
« Return to homepage
Copyright © 2018, 101 Holidays Ltd