How to Plan the Perfect Beach Wedding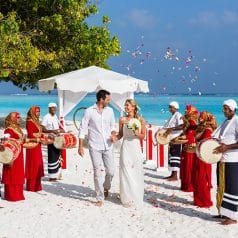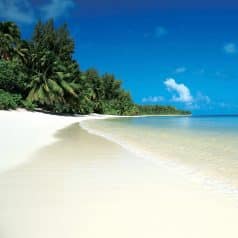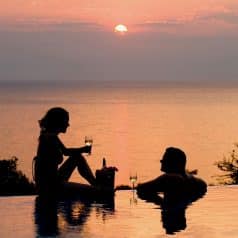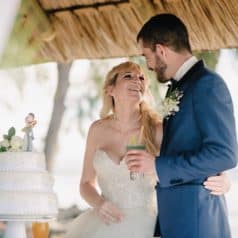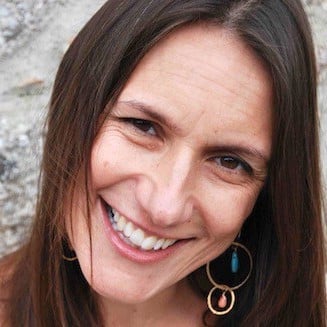 By Jane Anderson
A beach wedding could be the answer to your dreams in 2022. The pandemic has caused a backlog, with many venues in the UK heavily booked. So why not jet off to a tropical beach and do it barefoot in the sand?
Denise Van Outen did it in the Seychelles, while Penelope Cruz and Mariah Carey both chose the Bahamas. Sunny weddings by a powdery, white sand beach are the stuff of fairy tales, especially when you come from a country where you can't rely on the weather even in mid summer.
For UK couples, the most popular and easiest places for long-haul beach weddings include the islands of the Caribbean, Florida, Hawaii, Mauritius, Seychelles, Sri Lanka, Kenya, South Africa, Thailand, Bali and Australia. In the Caribbean, the Dominican Republic is particularly good value.
The easiest way to organise a beach wedding is to find a tour operator that specialises in overseas weddings or book direct with a hotel that has a good reputation for weddings and has a dedicated wedding co-ordinator who can be your point of contact for all the arrangements.
The advantage of using a tour operator, is that they will take care of all the paperwork such as sending proof of passports, birth certificates and so on. Resorts usually set up a gazebo in the sand decorated with flowers, or sometimes there's a pretty jetty or gardens beside the beach if you don't actually want sand between your toes, but want the beach vibe.
Another option is to rent a house for a wedding such as Pebble Beach in Culloden in the Scottish Islands. On the shores of Inverness Firth, it sleeps 10. Find more ideas at the Big Day collection.

10 top tips for beach weddings
• Remember that it's going to be hot. A nice time to exchange vows is just before sunset when it's cooling down and this also means you can have your photographs taken as the sun goes down when the light is at its most flattering.
• Most destinations have a short residency period of one or two days before you can tie the knot, but this isn't a bad thing as it's good to get acclimatised before the big day and take care of the finer details with your resort wedding co-ordinator or direct with your suppliers if you've decided to organise things yourself.
• Remember to treat yourselves to a few spa treatments in the run up to the big day. Many resorts offer couples treatments too.
• There are no formal rules to weddings on the sand, so this is your opportunity to create your own beach wedding vibe. On site wedding co-ordinators will help you along, but you might want to take a seaside theme like shells, starfish or coral and weave that into your invitations, table settings and so on.
• Most resorts have wedding packages. Make sure you look carefully at what's included, and if there's anything extra you'd like, remember to ask for it, as most resorts will be happy to arrange tailormade extras – for a price, of course.
• Beach weddings are usually much more brief than a traditional church wedding for example, so make sure you are happy with the vows and the length of the service. If it's just the two of you, how about organising something special after saying 'I do' like a champagne sunset cruise before your wedding meal?
• Before the wedding, make sure you don't get sunburnt or overdo the tan. Wedding photos are for life.
• Don't go for a huge wedding dress that' s going to be uncomfortable on a hot day or cumbersome on the beach. Natural fabrics like silk are best. Designers like Alice Temperley create beautiful floaty wedding dresses, whilst on the high street, you'll always find something pretty and cool at Monsoon. Grooms also take note. You won't enjoy your day if you're sweltering, so ditch the suit for a crisp white shirt and cool trousers.
• If you are marrying on the sand, remember that high heels will sink in. If you simply must wear heels, wedges are the best option, but pretty sandals are more practical.
• Make sure you've booked a good photographer. Most resorts have their own, but take a look at their previous work to make sure you're happy with their style. >> Learn more about getting married abroad.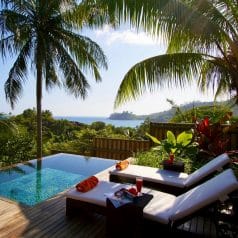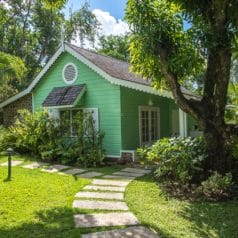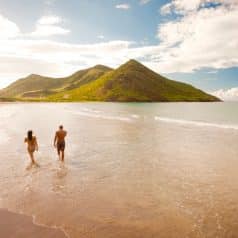 My top beach wedding venues
There are many places around the world where you can get married on a beach. Not all of them will match your dreams. Here are a few personal recommendations.
Raffles Praslin, Seychelles
Anse Chastanet, St Lucia
Trou aux Biches, Mauritius
Zoetry Agua Punta Cana, Dominican Republic
Casa Olhao in Portugal
If you fancy Mauritius, Beachcomber Tours has created a free online weddings and honeymoons magazine.
Last updated: 10 June 2022