Honeymoon Destinations in January

Where to go on Honeymoon in January 2020
By Jane Anderson, Editor of 101 Honeymoons
If you've chosen a honeymoon in January you are probably keen to jet away for some warm temperatures and sunshine which means you'll need to rack up some air miles to find guaranteed hot weather.
Luckily, there are many great sunny honeymoon destinations in January – as well as plenty to let you snuggle up in front of a roaring log fire or take to the ski slopes.
Quick links
Caribbean honeymoons – Africa – Asia – Other long haul – Europe
Caribbean Honeymoons in January
January is a wonderful month to honeymoon in the Caribbean. There's a buzz in the air and the weather across the region is reliably hot and dry. Expect temperatures of around 28ºC and an average 9 hours of daily sunshine.
January does bring high-season prices to the Caribbean, but there are ways of cutting costs. You could go all-inclusive at a less expensive destination such as the Dominican Republic – it is rich in beaches, culture and natural beauty. I recommend Secrets Royal Beach Punta Cana.
Other islands where there's plenty to see and do include Antigua, St Lucia, Barbados, St Kitts and Jamaica, all with direct flights from the UK. In St Lucia you can go zip-wiring in the rainforest, cycling on former sugar plantations and visit a walk-in volcano. The best places to stay include Anse Chastanet and the small upmarket all-inclusive East Winds.
Jamaica has character and style in spades, and there is lots to see whether you rent a car or join organised excursions. I recommend staying at Jamaica Inn, a beautiful small hotel with a low-key friendly vibe and outstanding food.
Barbados has stylish restaurants, lively bars and fabulous hotels. I like Little Good Harbour, a small chic retreat, and The Atlantis on the quieter, less-developed east coast.
St Kitts is a low-key traditional island offering warm hospitality and both high-end dining and toes-in-the-sand beach bars. Best places to stay include Ottley's Plantation Inn and Belle Mont Farm where you can cuddle up in cottage-style rooms with private plunge pools and dine on home-grown organic cuisine.
If want to get even further from the crowds, you could head to the stunning island of Anguilla which covers less than 35 square miles and is lined with pristine platinum-sand beaches. Best places to stay include the Moorish-styled Cap Juluca, the Four Seasons (check out the Rooftop Suites with private pool) and CuisinArt Golf Resort & Spa.
Or if you want to blow the budget, Sir Richard Branson's Necker Island sets the bar very high.
Another way to beat the crowds in high summer is to take a romantic cruise on a tall sailing ship with the upmarket Star Clippers. Its Caribbean cruises get to the small ports that big ships cannot reach, and casting off at sunset with the giant sails flapping overhead is a truly special experience.
Africa Honeymoons in January
Safari honeymoons are becoming increasingly popular, as couples decide to opt for a trip-of-a-lifetime rather than a conventional beach break. And who can blame them? Africa promises not only breathtaking wildlife experiences, but vast pristine wilderness, vast skies and magical places to stay.
January is a perfect time to visit Tanzania as this is peak migration season. Expect 32ºC temperatures and 8 hours of sunshine. At Sanctuary Ngorongoro Crater Camp you'll enjoy game drives in open safari vehicles and bush walks, encountering rhino, elephant and big cats. You can combine this with a beach stay on the exotic spice island of Zanzibar at the superb Baraza Resort. See more about this safari and beach combo.
A safari in Kenya is another hot favourite for January, offering excellent game viewing and some of the world's most romantic lodges. You can easily twin this safari with some luxury beach time on Zanzibar. One of the most popular trips for honeymooners is this 10-night Safari and Beach combination featuring the beautiful Kicheche Valley Camp and small and exclusive Kasha Boutique Hotel. Expect 32ºC and 9 hours of sun on the coast.
January means mid summer for South Africa which is at its driest, warmest and most popular so remember to book early, especially if you want to spend part of your honeymoon in cosmopolitan Cape Town (25ºC, 11 hours of sun). Regional flights make it easy to combine South Africa with Mauritius or the Seychelles.
There are some superb safari lodges in South Africa including Ulusaba Private Game Reserve, and in Kenya's Mahali Mzuri which has just 12 luxury tented suites. Either can be combined with a stay at Mont Rochelle in South Africa's Winelands. All three properties are owned by Sir Richard Branson.
It's "green" season in Botswana which means occasional rain showers, but also lower prices, fewer tourists, lush greenery and the chance to see newborn animals. The Okavango Delta will be particularly beautiful.
See my pick of the finest safari honeymoon lodges in Africa.
Asia Honeymoons in January
January is one of the best months for a honeymoon in Asia. Thailand, for example, has reliable temperatures of around 30ºC. With glorious beaches, delicious food and value for money, it's a guaranteed winner, though you should head to Phuket for beaches, rather than Samui which will be wet at this time of year.
Vietnam is a good winter honeymoon getaway, particularly now there are direct flights from the UK. You can enjoy this two-week Culture & Coast private tour, taking in all the main sites. You could also combine Cambodia and Vietnam or stay at the luxury barefoot Six Senses Hideaway.
Among the less obvious choices in Southeast Asia is the Philippines – an incredibly beautiful country of paradise islands and natural wonders with friendly English-speaking people. One day you could be walking up one of the world's smallest volcanoes, another you could be swimming with turtles in a marine reserve.
If you've got your heart set on Bali, January is a lovely month to visit (30ºC, 8 hours of sun) but be prepared for a few rain showers. This gentle island won't disappoint with its welcoming people, rich culture, fabulous food and ultra romantic hotels. Best places to stay include the Puri Ganesha, a laid-back luxury hideaway in the north of the island, and the great-value Gajah Mina Beach Resort on a surf beach in the south-west. See this selection of honeymoon hotels in Bali and the latest special offers.
The Maldives has its dry season in January (30ºC, 9 hours of sun) and resorts are falling over themselves to be the most romantic in the world with overwater villas, underwater spas and even 24-hour spas. If you're on a budget, there are some fabulous all-inclusive options which mean you don't have to worry about the final bill at checkout.
NIYAMA Maldives is a sexy blow-the-budget resort. It offers a selection of water studios and pavilions – most with a private pool – plus an underwater nightclub and the chance to spend a night at sea in a luxuriously-fitted traditional sail boat, complete with your own personal chef and butler. I also love the ultra-luxe Huvafen Fushi.
You can very easily combine the Maldives with a week in Sri Lanka on this fabulous twin-centre honeymoon as the two destinations are just an hour's flight apart. You could even get married in Sri Lanka (though not in the Maldives).
Another increasingly popular two-centre option is combining the Maldives and the Arabian Gulf. Choose between the glamour and glitz of Abu Dhabi and a whirlwind tour of Sri Lanka, the Maldives and Dubai. Both are excellent choices in January.
You can now combine India and the Maldives on a fabulous two-week honeymoon including a private tour of Rajasthan followed by a stay at the fabulous all-inclusive Cinnamon Dhonveli.
India is all about culture, adventure and fabulous food and in January honeymooners should head to the beaches of Goa for 28ºC temperatures and nine hours of sun.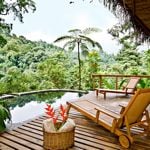 Other Long Haul Destinations
Possibly the best long-haul honeymoon destination that you've not yet considered is the Cape Verde islands. This Atlantic archipelago offers year-round sunshine (24ºC in January), superb beaches, dramatic landscapes and fascinating culture – a mix of Africa, Brazil and Portugal. And it's a six-hour direct flight from the UK. See the latest special offers.
If you've always hankered after a honeymoon on the other side of the world, now's one of the best times of year to visit Australia. Popular spots for honeymooners include Longitude 131º overlooking Uluru, Paperbark Camp on Jervis Bay and Harbour Rocks in Sydney.
In New Zealand I recommend a self-drive honeymoon where you could be heli-hiking on glaciers, kayaking with dolphins, horse riding through the bush and bathing in natural hot springs. It's much more affordable than you might think. This 23-day Grand New Zealand itinerary is good value.
For beach lovers, you can't get much more remote than the South Pacific where the paradise islands of Tahiti and The Cook Islands await. Best places to stay include Te Manava Luxury Villas and Le Taha'a.
Or look to Central and South America. Costa Rica is a dazzling destination offering a combination of luxury eco-hotels, wildlife and adventure, from active volcanoes and rainforest adventures to pristine beaches set in national parks. This 12-day Costa Rica Highlights private tour is ideal.
Chile is packed with natural wonders, from the vast colourful moonscapes of the Atacama Desert to the immense glaciers and lakes of Southern Patagonia. Best time to visit is November to March. You could also discover the wonders of Patagonia in neighbouring Argentina.
January is a perfect month to explore Brazil – you'll miss Carnival but it's warm and sunny enough to hit the beach and Rio de Janeiro is one city with a year-round buzz. South America specialists Dehouche can tailor-make honeymoons to cover more of the country too from the Iguacu Falls on the border with Argentina up to Brazil's famously chic beach destinations. Fernando de Noronha in one of the most luxurious white sand retreats around.
Florida is just the right size for a fly-drive honeymoon: I recommend a few days of shopping, dining and cocktails on Miami's South Beach followed by some chilling on the Gulf Coast, perhaps at the South Seas Island Resort on Captiva Island.
European and North Africa Honeymoons in January
Tenerife is the best mid-price option if you want more-or-less guaranteed sunshine (though don't expect tropical heat). Flying is easy and cheap and there are luxurious hotels including the Gran Hotel Bahia del Duque and the fabulous The Ritz-Carlton Abama.
Morocco is only three hours' flying time from the UK, and you can expect sunny days and cool evenings: 18ºC in Marrakech with 7 hours of sunshine. If you're splashing out, stay at Sir Richard Branson's stylish Kasbah Tamadot. If you're on a budget, this seven-night honeymoon includes stays at a riad in Marrakech, a luxury desert camp and a kasbah in the Atlas Mountains – plus a hot air balloon flight.
It's a five-hour flight to Egypt where Cairo promises 19ºC and 7 hours of sunshine. You could start with a few days exploring the sights of Cairo including a visit to the pyramids at sunset. Follow that with a luxury cruise on the Nile.
Head to Dubai and you only need to fly 6 hours from the UK for nailed-down beach weather: 24ºC and 8 hours of daily sunshine in January. There's a huge selection of hotels although I recommend the One&Only Royal Mirage Arabian Court which is intimate, stylish and has impressive facilities.
And if you're not a sun seeker? What is more romantic than sharing a view of the Northern Lights? Go to Iceland in January and you'll have a very good chance. Stay a couple of days in the capital Reykjavik before heading to the Hotel Ranga on the banks of a salmon river, surrounded by glaciers and mountains. After dark, soak up a breathtaking view of the night sky while reclining in the hotel's own outdoor geothermal hot tubs.
I love Artisan Travel which has a tempting selection of winter honeymoons in the Arctic Circle. You can stay in a hotel carved from ice and snow or a glass igloo where you can gaze up at the Northern Lights from the warmth of your bed, or stay in a unique Treehotel in Sweden.
Last updated: 11 September 2019
> Visit our homepage for my full choice of 101 honeymoons or try my fun quiz to find the right destination for you. Also see our sister site 101 Holidays for more ideas of where to go in January, and where is hot in January. You can also search for late deals on honeymoons.
Try another month…
January, February, March, April, May, June, July, August, September, October, November, December
Get holiday deals sent to your inbox
Want to save up to 40% on holidays? Enter your email address below to receive a free weekly deals newsletter from 101 Holidays. You can unsubscribe at any time. View a sample newsletter.