Honeymoon Destinations in October
Where to go on Honeymoon in October

By Jane Anderson, Editor of 101 Honeymoons
With the arrival of autumn in the UK, October is a great month to get away on honeymoon. This is when the weather starts to turn across Europe. In early October you can expect sunshine and warm seas across the Mediterranean, but by the end of the month you are safer in the southern parts of the Med. Prices will be considerably lower than in summer, although it's worth remembering that the school half-term holidays typically fall in the second half of October.
This is a great time of year for a European city break – a much more civilised experience without the crowds and the searing heat of summer. You could combine a couple of cities, such as Florence and Rome, or Seville and Granada. Beyond Europe, there are plenty of wonderful beach destinations within a five-hour flying time, such as Morocco, Egypt and the Canary Islands.
If it's a long-haul escape you're after, October offers plenty of fabulous options including the big hitters of the Indian Ocean – the Maldives, Seychelles and Mauritius. It's off-season in the Caribbean (good for bargains, but with a risk of stormy weather) and there are exciting possibilities in Africa and Asia.
Quick links
Short haul beach honeymoons – City and countryside in Europe – Long haul
Short Haul Beach Honeymoons in October
In the first half of October you can enjoy the northern Mediterranean – you could rent a villa for two in Mallorca, find a friendly little hotel in Corsica, go island hopping in Croatia or stay in a stylish hideaway on the volcanic island of Santorini. As a general guide, you can expect temperatures of around 23ºC with 8 hours of daily sunshine and warm seas.
Later in the month it's safer to head further south – perhaps to the Lycian coast of Turkey, Cyprus, the more southerly Greek islands, Andalucia and the Costa del Sol in Spain, or Puglia in the south of Italy. Here you can expect 25ºC temperatures and 8 hours of sun.
Meanwhile, the Portuguese island of Madeira offers 24ºC and 7 hours of sunshine at the end of a four-hour flight.
Turkey has some lovely boutique hotels including the adults-only Mandarin Boutique Hotel, which has just eight double rooms, each with a four-poster bed and Jacuzzi for two.
The Algarve enjoys fabulous weather long into October. Away from the busiest resorts you'll find a great selection of luxury hotels for honeymooners such as Vila Vita Parc in Porches, the Lake Spa Resort in Vilamoura and the contemporary-styled ANANTARA Vilamoura.
For Italian beaches you need to venture south and you won't find better beaches than on the island of Sardinia. Stay at Forte Village which has a white-sand beach, a world-class spa and extensive sports facilities.
Madeira has thrown off its dowdy image and has emerged as an exciting year-round honeymoon destination. The island has some great hotels and dramatic mountainous landscape. You can go whale watching, take picturesque walks along ancient levadas carved through the hills, or take your pick from canyoning, big game fishing, paragliding and scuba diving. You could stay at one of the many restored mansions (quintas), the best of which include Quinta da Bela Vista and Quinta da Casa Branco.
Egypt is a great choice for an exotic honeymoon without a painfully long flight. Choose from a great selection of Nile cruises which you can combine with a beach break on the Red Sea. You could kick off your trip to the Pyramids in Cairo where you can expect 30ºC and 9 hours of sunshine.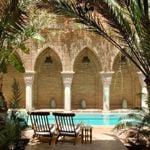 City and Countryside in Europe
The Italian cities are especially welcoming in October. You could cherry pick from Rome, Florence and Siena or combine all three in an Italian trio. Few places are more romantic than Venice and October is a great time to be there (21ºC, 6 hours of sun) after the heat of summer and without the peak-season crowds. Best hotels include the five-star deluxe Ca' Sagrado with views over the Grand Canal, the low-key but luxurious Hotel Londra Palace and the legendary Danieli.
If you have the budget, treat yourselves to a journey on the Orient-Express all the way from London to Venice. You will travel through Europe passing glorious scenery whilst enjoying superb cuisine, champagne and fine wines. Alternatively depart from Venice and spend one romantic night on the train en route to Prague, another fabulously romantic city, before getting back on the train for the overnight journey to Paris. Three amazing cities in one mind-blowing honeymoon. More details here.
Autumn is a romantic time of year in Paris where our recommended hotels include the five-star Lancaster set in a former private residence just off the Champs-Elysées, and the charming Relais Christine. You can even travel there on the Venice Simplon-Orient-Express.
Tuscany in October is still warm but the summer crowds have gone and prices are down. Tucked away in the countryside amid hilltop towns and rolling hills you'll find a fabulous array of villas for two. For example, Due Leoni in the ancient Montebuoni hamlet has gorgeous gardens, a swimming pool and a shared tennis court, and costs from £517 per week.
Further south still is Morocco with guaranteed warmth in October. Stay at Sir Richard Branson's ultra luxurious Kasbah Tamadot in the lower Atlas Mountains, or in gorgeous Marrakech (28ºC, 8 hours of sun).
Long Haul Honeymoons in October
Fly another couple of hours and you can find yourselves in the Arabian Gulf with guaranteed hot weather and sunshine in October. Dubai divides opinions among travellers but it's hard to beat for glamour, glitz and raw energy. It's hot, too: 36ºC with 10 hours of sun. Rather than head to the biggest, flashiest hotels, I recommend the more discreet surroundings of The One&Only Royal Mirage Arabian Court.
Because the Arabian Gulf is such a huge flight hub, there are interesting options for two-centre honeymoons. You could head to the Maldives and Abu Dhabi – which costs less than £2,000 per person – or combine the Maldives with the natural beauty and fascinating culture of Oman.
In October spring is well underway in South Africa. The weather will be dry and warm, and the lack of rain and vegetation makes this prime game-viewing season as animals concentrate around water sources. This is especially true in the Kruger area of South Africa. If money's no object you should consider Sir Richard Branson's Ulusaba Private Game Reserve which offers a sensational African honeymoon experience.
In East Africa the large herds have migrated into Kenya's Masai Mara. This is a good time to stay in some of the most romantic safari lodges in the world such as Elsa's Kopje in Meru National Park, Cottar's 1920s Safari Camp near the Masai Mara and Segera Retreat on the Laikipia Plateau.
It's hot and dry in Zambia and Malawi making it prime game viewing time. Check out this honeymoon package which combines a trip to Victoria Falls, stunning wildlife safaris in South Luangwa National Park, and a relaxing beach retreat at Pumulani on the shores of Lake Malawi.
In the Indian Ocean, the big hitters of Mauritius (27ºC, 8 hours of sun) , the Seychelles (29ºC, 7 hours of sun) and the Maldives (30ºC, 8 hours of sun) are all perfect for October honeymoons. Ask your tour operator about combining Mauritius or the Seychelles with Southern Africa.
If you're on a budget, but have your heart set on the Indian Ocean, check out these boutique hotels and luxury resorts and private islands with Just Seychelles. In Mauritius, I recommend the Trou aux Biches. See more honeymoons in Mauritius.
In the Maldives, you can bag a great value honeymoon by going all-inclusive. I recommend Meeru Island which offers four-star honeymoons at three-star prices, and Kuredu Island Resort which has a choice of villas, suites and bungalows set on 3km of white sand beach.
A great two-in-one combination if you want to combine culture with beach is this twin-centre honeymoon in Sri Lanka and the Maldives. This is also a great idea if you want to get married in one destination and honeymoon in another as weddings in Sri Lanka are good value for money and very exotic. You can't get married in the Maldives, as it's a Muslim country.
Another recommended two-centre option is a safari in Tanzania followed by Zanzibar for a beach escape. Zanzibar is as exotic as it sounds: the Arabic capital Stone Town is endlessly fascinating while the beaches are home to some of the world's most chilled castaway hotels.
October is a great month to visit Madagascar (25ºC, 8 hours of sun), an exciting "new" honeymoon destination. On this 12-night Madagascar honeymoon you can track down lemurs in the rainforest while staying at Vakona Forest Lodge then chill on a pristine beach and swim in turquoise seas at the secluded Manafiafy Lodge.
If India has always been calling you, check out this great selection of luxury honeymoons. October is an ideal month for touring – dry but not overwhelmingly hot. See the classic sights – including the Taj Mahal – in style on this 14-day Rajasthan private tour or combine The Taj Mahal Palace in buzzing Mumbai with the romantic Oberoi UdaiVilas on the banks of Lake Pichola, and the gorgeous beachfront Leela Goa. See this website for more honeymoon ideas in India.
You can also combine India and the Maldives on a fabulous two-week honeymoon from just £1,800 per person. Start with a tour of Rajasthan by private car, taking in the Taj Mahal and the palaces of Udaipur and finish with a relaxing stay at the all-inclusive four-star Cinnamon Dhonveli.
October is also the start of the tourist season in most parts of south-east Asia. You could combine adventure and romance in Cambodia or take a private tour of Vietnam – perhaps with a cruise down the palm-fringed Mekong into Cambodia. If beaches appeal, try the Sarojin in Khao Lak, Thailand.
You can combine beach and adventure in Indonesia where this honeymoon adventure through Java and Lombok is truly remarkable – witness the sun rise at the 8th-century Borobodur temple in Yogyakarta, see orang-utans and proboscis monkeys in the Kalimantan rainforest, ride horses beneath an active volcano in Surabaya before unwinding at the gorgeous beachfront Lombok Lodge.
October is also a lovely time to visit Japan as the heat of summer is replaced by the warm colours of autumn. Soak up the stunning sights, sounds and smells of Tokyo before exploring the countryside, and the famous hot springs.
If you don't mind a long flight you'll love Australia and New Zealand. Great honeymoon spots include Qualia in Australia's Whitsunday Islands, while in New Zealand I recommend a self-drive honeymoon. This 23-day Grand New Zealand itinerary features a host of natural wonders along with the big cities and costs from just £2,389 per person (excluding flights).
Last updated: 20 November 2017
>> Visit our homepage for the full choice of 101 honeymoons or try our fun quiz to find the right destination for you. Our sister site, 101 Holidays, has expert recommendations for holidays in October, and details on where is hot in October.
Try another month…
January, February, March, April, May, June, July, August, September, November, December
Get holiday deals sent to your inbox