Honeymoon Hotels and Suites with Private Pool

By Jane Anderson, Editor of 101 Honeymoons
One of the ultimate honeymoon luxuries is a room with a private pool. It might be a private plunge pool where you can spend intimate time alone, or it could be an infinity pool with breathtaking views of a beach or forest where you can sunbathe or take a cooling dip. Either way, the key is privacy and knowing that you will not be disturbed as you enjoy your little slice of paradise. Here is my pick of some of the world's best honeymoon hotels with private pools. None are cheap, but some are surprisingly affordable.
The Mediterranean
St Nicholas Bay Resort, Crete
The Executive Suites at the five-star deluxe St Nicholas Bay Resort (pictured above) come with a private pool and amazing views of the Aegean. Other special touches for honeymooners include one complimentary dinner, sparkling wine, flowers in your suite on arrival and a massage in the hotel's Poseidon Spa. Details from Kirker Holidays.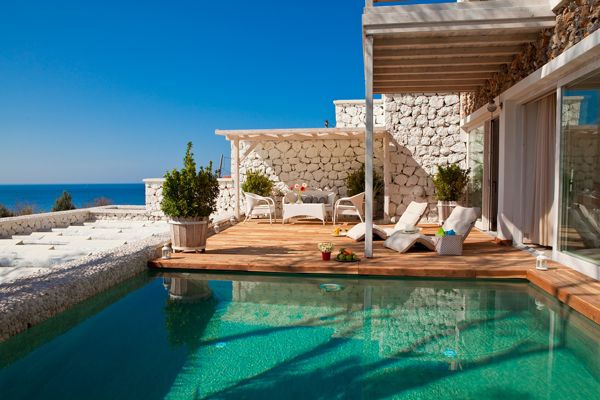 Likya Gardens Hotel, Kalkan, Turkey
Each of the seven suites in this boutique hotel has a private plunge pool (pictured above) overlooking the ocean. You'll also find four-poster beds, roll-top bathtubs, meals served on your private terrace, and massages on request. Your own private seafront cabana with an iPod dock, minibar, loungers, butler service and a ladder straight into the sea adds to the romance of this Turkey honeymoon. Book with i-escape.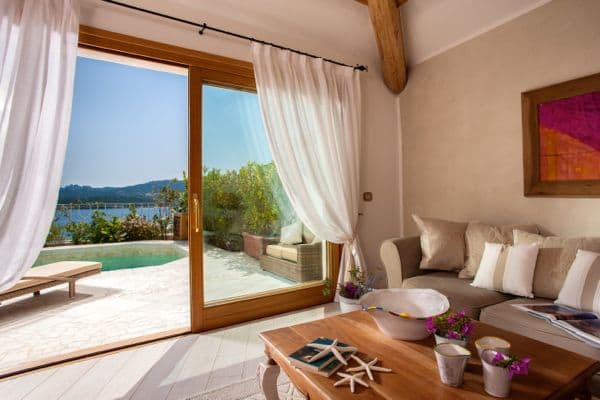 Hotel Relais del Golfo & Spa Villa, Sardinia
Sardinia is renowned for its luxury hotels and glamorous restaurant scene but the Hotel Relais del Golfo (pictured above) ups the ante with a number of suites with a private pool and garden. All are scattered on the hillside, overlooking the Gulf of Arzachena. Book with the Sardinia specialists, Sardatur.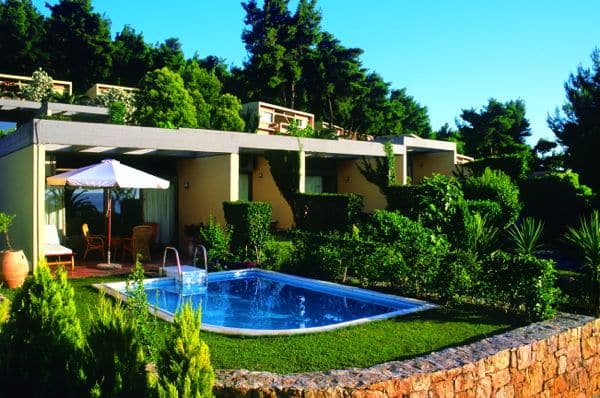 Sani Resort, Halkidiki, Greece
This luxury resort has at its heart a beautiful marina with boutique shops and gourmet restaurants and bars as well as two top spas, fabulous beaches and a chic beach club. It's popular with families so you might want to avoid the school holidays. Some rooms and suites in Sani Beach Club have a private pool – the least pricey is the Junior Suite with Private Pool Seaview (pictured above). Book direct with Sani.
Middle East and North Africa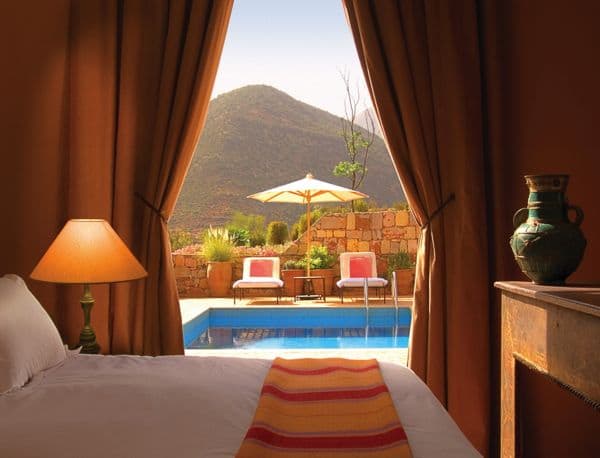 Kasbah Tamadot, Morocco
The Aman Deluxe Suite (Aman means 'water' in the local Berber language), at Kasbah Tamadot in Morocco's Atlas Mountains, has its own heated outdoor pool (pictured above). Part of Sir Richard Branson's empire, the entire resort is both seductive and stylish. Book with Virgin Limited Edition.
Caribbean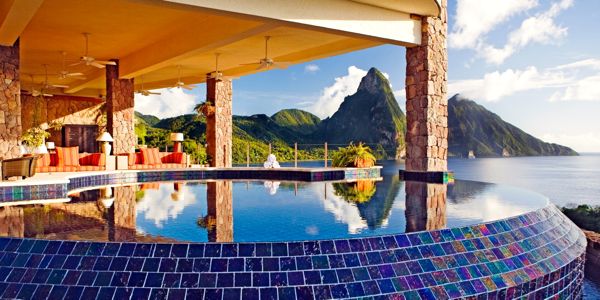 Jade Mountain, St Lucia
Each of the 24 infinity pool sanctuaries that make up this spectacular hotel boasts not only a private pool but also a missing fourth wall (Galaxy Pool Sanctuary pictured above). The result is a breathtaking honeymoon retreat within a retreat, with panoramic views of the Pitons and Caribbean sea. Wander down to the beach or up to the rooftop restaurant or simply relax together in privacy. Book with Cox & Kings.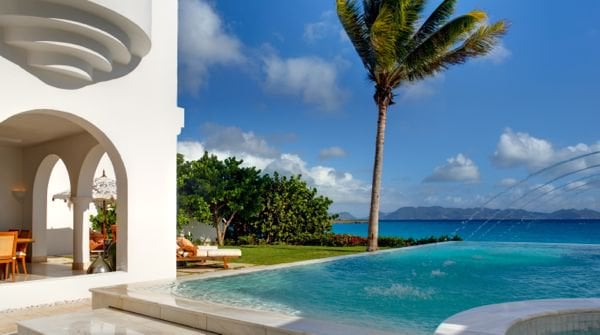 Cap Juluca and The Viceroy, Anguilla
Anguilla is honeymoon heaven. Cap Juluca is stunningly individual with a Moorish design, set on the spectacular beach. The original Oceanfront Pool Suites have a small private plunge pool, as do the Oceanview rooms and suites at more contemporary Four Seasons Anguilla. For a truly amazing private pool, book the two-bedroom Jonquil Suite at Cap Juluca (pictured above). Book with Caribtours.
Sandals LaSource Grenada
This is Sandals' first resort in Grenada and it's located bang on one of the most beautiful beaches – Pink Gin Beach. The Skypool suites (pictured above) at Sandals LaSource have an amazing private infinity pool with a view. Book with Sandals.
Jamaica Inn, Ocho Rios
Cottage 7 (pictured above) at Jamaica Inn is a gorgeous two-storey hideaway set above a cove. The private infinity pool is a stunner and there are steps down to the ocean. Other options with a private pool at Jamaica Inn include The White Suite, where Sir Winston Churchill once stayed. Book direct with Jamaica Inn.
South America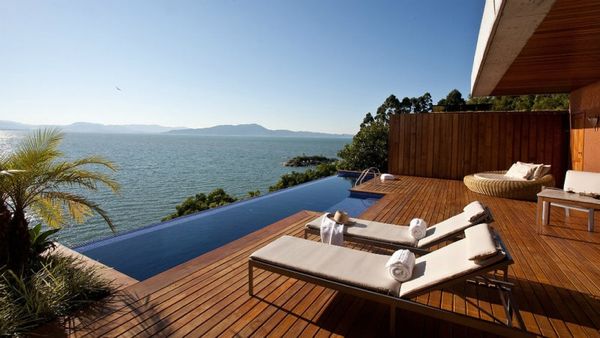 Ponta dos Ganchos, Florianopolis, Brazil
Set on its own private peninsula, this is one of Brazil's most exclusive hotels. Complete with its own private beach and Christian Dior spa, Ponta dos Ganchos' villa-style rooms are scattered across the property, each with a superb view and complete privacy. The Special Emerald Villa (pictured above) has a generous private plunge pool. Book with i-escape.com.
Hacienda San Jose, Yucatan Peninsula, Mexico
Hacienda San Jose is a former nobleman's estate and each of the rooms has a small private plunge pool. The original architecture dates back to the 18th century, including preserved frescoes in the estate's chapel.
ASIA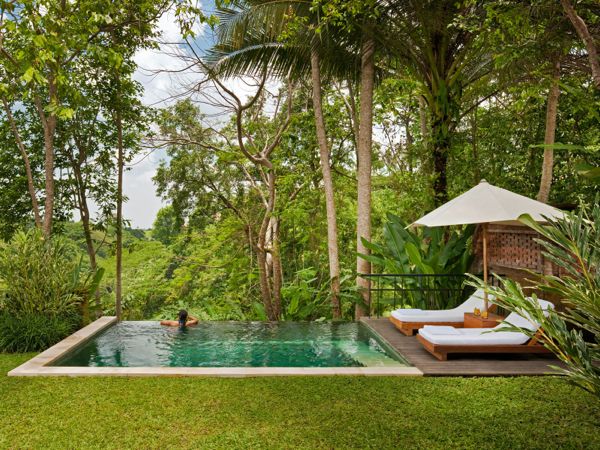 Uma Ubud, Bali, Indonesia
Soak up Bali's unique and rich culture in the arty inland village of Ubud before retreating to the tranquil privacy of your Uma Pool Suite (pictured above) at Uma Ubud. You can't fail to relax in this peaceful and calming gem of a hotel. Daily yoga classes and guided jungle walks are also included.
Song-Saa, Cambodia
Cambodia was never renowned for its luxury hotels – nor its beaches – until Song-Saa. All the accommodation at this uber-luxury beachfront gem comes with a private pool (pictured above) – just pick your location from a choice of jungle, overwater or beachfront. Perfect twinned with a few days temple-bashing at Angkor. Book with Selective Asia.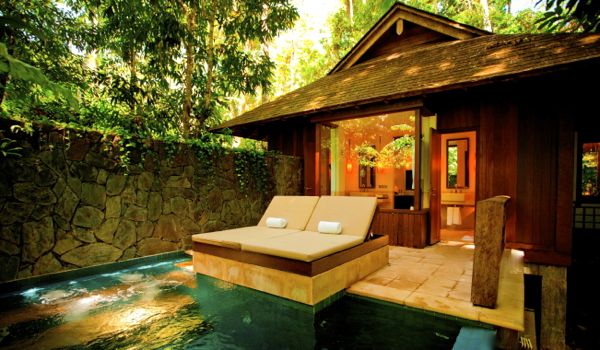 The Datai, Langkawi, Malaysia
This lush resort is set in ancient virgin rainforest above the beach – you'll find secluded villas dotted around and a really peaceful atmosphere. The Datai's Pool Villas have a private pool with a built-in Jacuzzi too.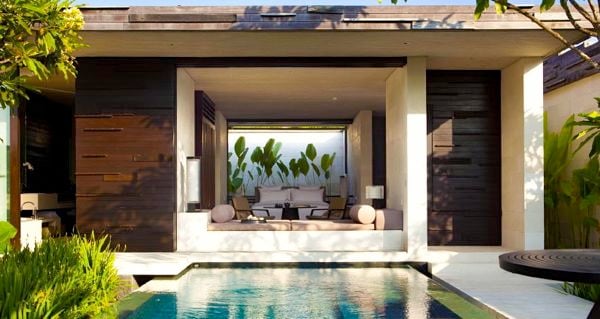 Alila Villas Uluwatu, Bali, Indonesia
All of the villas at this contemporary resort, on the north coast of Bali, have a private pool overlooking the Indian Ocean (one-bedroom villa pictured above). The Alila Villas style is all about sleek design softened with locally-sourced antiques and artefacts – they've struck the perfect balance here. Book with Abercrombie & Kent.
Indian Ocean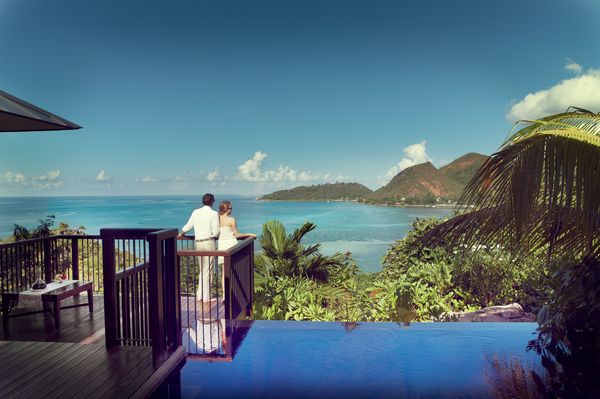 Raffles Praslin Seychelles
The tranquil island of Praslin is tempting enough but, at Raffles Praslin Seychelles, all the rooms have a private pool (pictured above) – this is a hotel created with romance in mind. Honeymooners will also enjoy a bottle of Champagne and fresh fruit on arrival, a romantic villa 'set-up' one evening, a complimentary 60-minute couples spa treatment and a surprise gift. Book with Just Seychelles.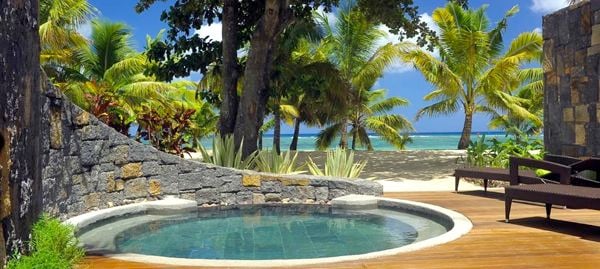 Trou aux Biches, Mauritius
Hotel rooms with a private pool are as rare as hen's teeth on Mauritius but the Beachfront Suites (pictured above) at Trou aux Biches each come with a sizeable pool all to yourselves – and you can walk straight out to the beach too. Book with Beachcomber Tours.
NIYAMA Maldives
So many of the resorts in The Maldives offer accommodation with a private pool – the spectacular NIYAMA for example. See my selection of the best honeymoons in the Maldives.
Australia and South Pacific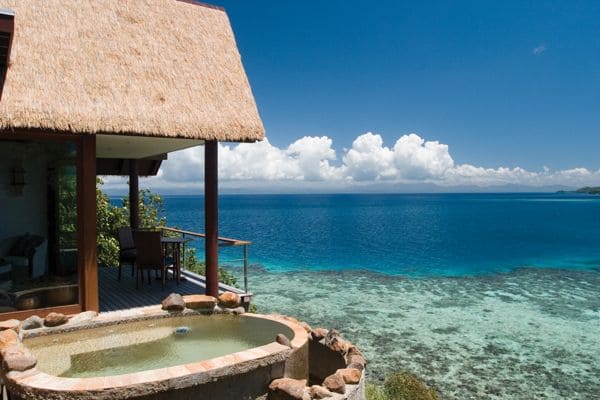 Royal Davui, Fiji
If your dream private plunge pool includes views of pristine colourful reefs and azure ocean on a private island, it's hard to beat the private pool villas (pictured above) at Royal Davui in dreamy Fiji. There are only 16 villas at this resort, each dotted around the lush island landscapes with a perfectly private pool. Book with Turquoise Holidays.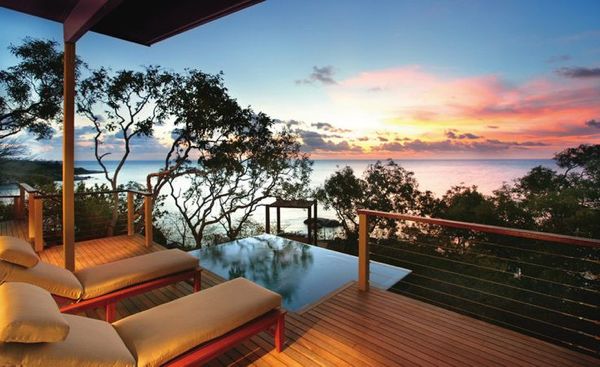 Lizard Island, Great Barrier Reef, Australia
Never mind the luxury of your own private plunge pool and welcome bottle of Bollinger in The Pavilion Suite (pictured above) at Lizard Island, this exclusive island resort also boasts no fewer than 24 powder white sand beaches. The teeming marine life of the Great Barrier Reef awaits.
Last updated: 8 February 2018