By Jane Anderson, Editor of 101 Honeymoons
With peak wedding season approaching, you may not have booked your summer honeymoon yet. I expect that most couples associate the Swiss Alps with winter ski, but having been there recently, I can honestly say, this is a fabulous choice for a summer honeymoon if you like breathtaking lakeland scenery, mountain treks, luxury spas and special food and wine.
Top of my list is St Moritz – world renowned as a chic ski mecca and home to the Cresta Run and an Olympic Bob Sleigh, yet first popular in the 19th century as a summer well-being spot for its therapeutic mountain air and luminous turquoise-green lake which these days gets you reaching for your iPhone to take a thousand photos.
The journey to tiny St Moritz is full of old-school romance. Fly to Zurich and board the train to St Moritz (just under 4 hours) past soaring Alps and sparkling lakes. Or you can catch the Glacier Express for the panoramic trip from Zermatt. St Moritz has one of the highest concentrations of designer shops in the world (30 within 300m) including Marni, Tom Ford and Chanel as well as traditional bakeries and chocolatiers such as Hanselmann, known for its nutty pastries.
But the focus is on the natural world with life-enhancing mountain treks and swimming in the crystal clear waters of Lake St Moritz. Neighbouring Lake Silvaplana is renowned for its world-class kite surfing in summer when the place turns into a Swiss Hawaii.
For a special treat, book into Hotel Kulm, the oldest hotel in St Moritz in plum position overlooking Lake St Moritz.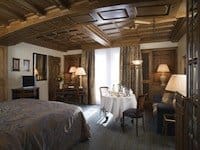 It may be the grande dame, yet it's most up to date in terms of modern luxuries including a spectacular new £8million spa where couples can enjoy the vast pool with underwater music, and outdoor heated pool with water jets. Book the candlelit couples spa suite with its huge picture window overlooking lake and mountains, tasteful heated waterbed for snuggling up with a glass of champagne and choice of healthy nibbles, plus a double waterjet bath pool, sauna and steam room all to yourselves.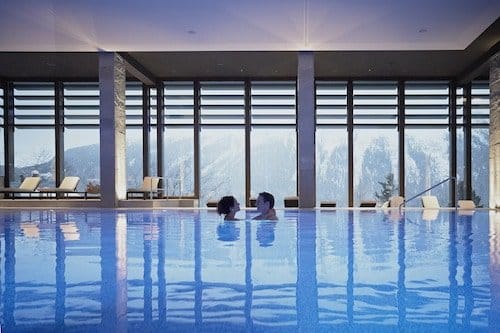 Most of the treatments use organic products, many from the Alps. I tried the Alpine honey scrub with Mountain Crystals which invigorates the skin, followed by the Energy Lift by Ericson Laboratoire – a fabulous facial.
If you want some fitness advise, make an appointment with Joachim Potschger, known as 'JoPo' who trains boxers and Formula 1 drivers with his "Persofit' concept which covers cardio training, nutritional counselling and deep relaxation.
As for sleeping, book a suite overlooking the lake if you can. Most rooms have fabulous cedar wood panels carved with stars and swirls giving off the most wonderful aroma that's deeply relaxing. This hotel is so five-star there's both a soap and a pillow menu.
Don't miss a memorable 'Vital Dine Around' dinner with wine tasting and chef table experience which begins with a walk through the back of house down a candlelit municipal stairs to the hotel's wine cellar, candlelit for an atmospheric and unpretentious wine tasting with the Master Sommelier, Benjamin Wolf.
Once you've sampled some fine Swiss wines and tasty canapés its on to the spotless kitchens with impressive cake making machines from 100 years ago to an oversized, high wooden table laid beautifully for your dinner, whilst you watch the chefs at work. After dinner there's the Miles Davis Jazz Lounge for live music.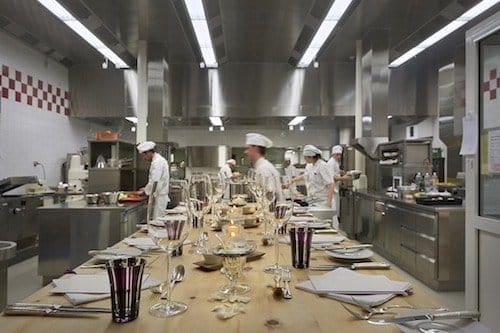 In summer, couples can try paddle boarding and kite surfing on the lake, or simply take romantic strolls or bike ride round its shore. A must is a hike on more than 500km of marked trails or you can simply lie back on your hotel balcony with a glass of bubbly and enjoy the views. Pop into the Dracula Club in summer, a legendary private members club, open to non-members from mid July to mid August during the Jazz Festival. And don't miss the garlic glitter ball. There's also opera in the Grand Restaurant during July. Who needs snow to enjoy the Swiss Alps!
How to book it
A 'Summer Romantic' package at Hotel Kulm costs from £820 per person including 3 nights half-board with gourmet dine around, a 4-course gourmet dinner in Kronenstübli, one-star Michelin restaurant in nearby sister hotel Grand Hotel Kronenhof, 2 hours' exclusive use of the Kulm's private spa suite: Hydrojet bath, waterbed and bio-sauna, sea salt peeling in the steam bath, a romantic horse carriage through the summer landscape to Lake Staz, afternoon tea in the Kulm lobby, complimentary use of the Kulm Spa and its wellbeing and fitness programme, free use of the Kulm Golf course including driving range and tennis courts and free use of the mountain cable cars in the Engadin/St. Moritz region and public transport in the valley (bus and Rhaetian railway).
Available from 26 June 2013 to 7 September 2013.
« More Honeychat