Budget Honeymoons and Packages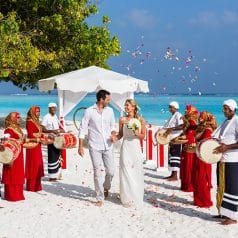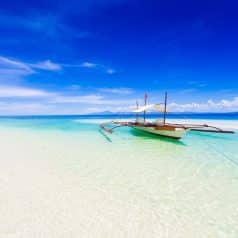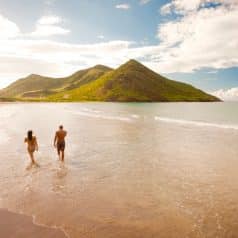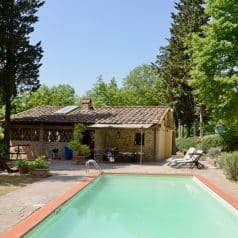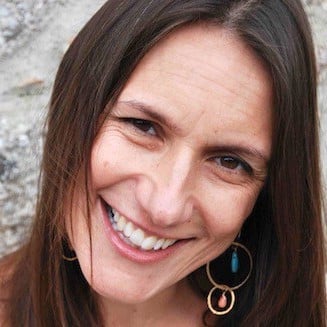 By Jane Anderson, Editor
The best honeymoons aren't cheap, but you can find a bargain – and there are many ways to cut costs. In this guide, I'll show you the best package deals for four different price categories, and I'll give you tips on saving money.
If you're looking for a budget honeymoon, can can visit our homepage and select the "Silver" option under price. This will give you around 35 suggestions to start you off. If you live in the UK, you can find honeymoons under £1,000 and honeymoons under £2,000.
Speak with a trusted tour operator for advice before booking. Click on the links below for details of deposits, prices and booking policies.
Quick links
How to save money – Budget honeymoons – Mid-priced honeymoons – Upmarket honeymoons – Blow the budget – Tips to cut costs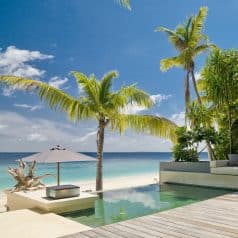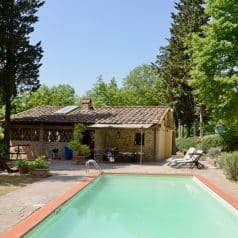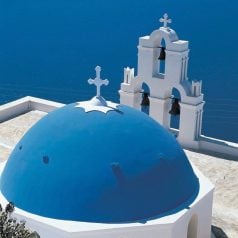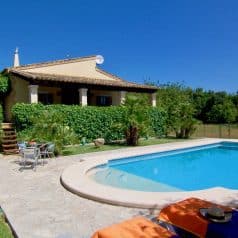 Saving money on your honeymoon
* If you get married in the winter you'll probably spend more on your honeymoon because of the cost of long-haul flights. So getting married in the spring or summer and taking a honeymoon in Europe, or the UK, could save money.
* If you want to pay a single price, try an all inclusive honeymoon. Some of the options I've selected are very classy (not the tacky all-inclusive package hotels you'll find advertised online). This also means you can budget more accurately.
* A popular way to save money is to combine your wedding and honeymoon by getting married abroad. See my suggestions for wedding venues overseas. Alternatively, you could try a mini moon – reducing the number of nights you spend away rather than compromise on luxury.
* If you know the time of year when you plan to get married, see my month-by-month honeymoon planner.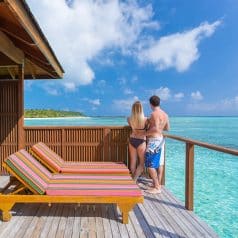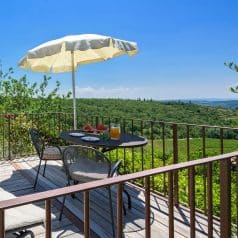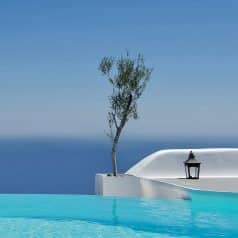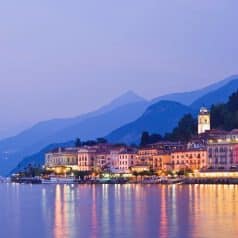 Budget honeymoon packages
Meeru Island Resort, Maldives
The only resort on the island of Meerufenfushi, Meeru Island Resort is textbook Maldives: powder white sand and turquoise lagoon. Except here you get four-star quality at three-star prices. For for the all-inclusive option and look out for complimentary room upgrades. Newlyweds should aim for the Jacuzzi Water Villas or the Honeymoon Suites, a short dhoni boat ride away. See my guide to the best honeymoon hotels in the Maldives.
Greek islands
For glamour and romance it's hard to beat the chichi island of Santorini. It has some stunning boutique hotels. However, if you're on a budget and are looking to relax after a stressful wedding, I recommend one of the smaller less developed Greek islands – see a full list of boutique hotels in Greece at i-escape.com.
Italian Lakes
It's one of Europe's most romantic destinations, with elegant waterfront hotels, charming villages, wonderful restaurants and lots of day trips by ferry. But the Italian Lakes are also great value, even in the height of summer. Check out the options on Lake Iseo.
Villas in Majorca
There's a new cool about Majorca. Its capital Palma couldn't get any more hip if it tried. Add to that the idyllic beaches, stunning mountains, fabulous local cuisine and to top it all, some of the best villas in the Med for the ultimate in privacy. Many are beautifully restored farmhouses with private pools in charming spots such as Sencelles and Selva. See these villas for two in Majorca.
Mid-priced honeymoon packages
Cape Verde Islands
Located in the mid Atlantic just six hours flying time from the UK, the Cape Verde islands offer year-round sunshine, dreamy tropical beaches and an exciting mix of influences – African, Brazilian and Portuguese. The hotels are great value with both three-star and five-star options, and the chance for some island-hopping. Check out the latest special offers.
Secrets Royal Beach Punta Cana, Dominican Republic
One of the most under-rated islands of the Caribbean, the Dominican Republic is bursting with rainforest, culture and beautiful beaches. Having suffered from a cheap charter image, that is changing now that British Airways flies direct. Zoetry Agua Punta Cana offers gold standards at silver prices in Spanish colonial style. Look out for complimentary honeymoon packages with lots of indulgent treats.
Quintas in Madeira
Madeira has cast aside its fuddy-duddy image and offers everything from extreme sports to extreme natural beauty. Choose from boutique hotels, contemporary boltholes and more traditional hotels, all in spectacular settings. Expect spa treatments, horse riding, golf, levada walks, dolphin and whale watching. A great short-haul option with year-round sunshine. Find out more about honeymoons in Madeira.
Mauritius
Many honeymooners are surprised to find budget options in the beautiful Indian Ocean island of Mauritius. My recommendations include the all-suite Heritage Le Telfair.
Italy's Amalfi Coast
If you want a seriously sexy slice of Italy, head to the picturesque Amalfi Coast which is home to some classic romantic hotels such as Villa Franca near Positano, where you can dine under the stars on the hotel terrace.
Upmarket honeymoon packages
Boutique hotels in the Caribbean
These intimate boutique hotels in the Caribbean are perfect for honeymoons. Discover the cool side of Barbados at The Atlantis; enjoy one of the Caribbean's best beaches at Cap Juluca in Anguilla; be wowed by the spectacular views at Anse Chastanet in St Lucia; or opt for a stylish Jamaican experience at the exquisite Jamaica Inn.
Sri Lanka
You may become an Aman-junkie when you combine Amanwella in the 17th-century Dutch fortified town of Galle and Amangalla on the sensational sandy shore of Tangalle. And if you fancy tying the knot here, you can even do it on elephant back. Find more honeymoon ideas in Sri Lanka.
Mauritius
With the awesome Morne Brabant Mountain on one side and the idyllic beaches of this southwest peninsula, known as the five-star strip, on the other, LUX* Le Morne certainly has location on its side. Having undergone a US$27million refurbishment, it's one of the island's most sought after five-star hotels but it's also great value. Another guaranteed winner in Mauritius is Trou aux Biches which has 66 beachfront suites, each with its own plunge pool.
All-inclusive Caribbean
Although the initial price tag might seem high, an all-inclusive honeymoon package at a luxury Caribbean hotel can work out a great deal as you'll need very little spending money once you arrive.
South East Asia
South East Asia is a rich seam of amazing honeymoon experiences with destinations and packages to suit all budgets. The Thai island of Koh Samui is perfect for chilling out. Cambodia is truly fascinating with incredible sites and sights and, more recently, cool beach hotels. Head to Vietnam for a dynamic mix of history, top cuisine, beaches, junk boat rides and fab new hotels such as the Six Senses Hideaway.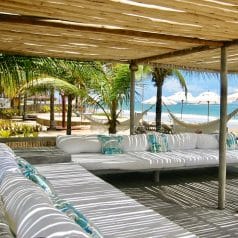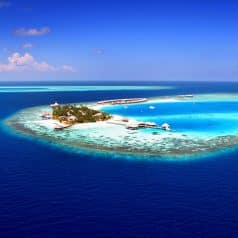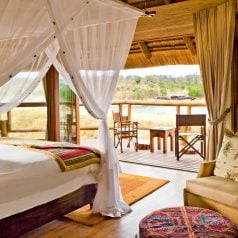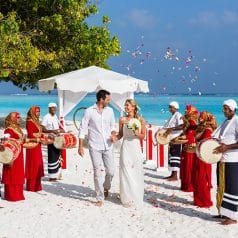 Blow the budget
Self-drive Australia
Sure, a honeymoon in Australia is a long haul but it delivers so many incredible experiences, and renting a car is good value. How about the iconic Sydney to Melbourne coastal drive, featuring whale-watching, wine-tasting, vast beaches, national parks and the penguins, kangaroos and koala bears of Phillip Island.
Brazil
Havaiana flip-flops at the ready, it's time to pull out all the stops with an intoxicating Brazilian honeymoon. Follow the jet-set and combine Ipanema beach life with after-sun partying in Rio, change pace with an Amazonian riverboat adventure then kick back in trendy Trancoso on the Bahia coast or an exclusive retreat on the Emerald Coast. Multiple honeymoons for the price of one. More info from Dehouche.
Ulusaba Private Game Reserve, South Africa
All your safari dreams come true at Ulusaba, Sir Richard Branson's private game reserve. Book a two-bedroom Cliff Lodge Suite and you can use one room as your private spa. Honeymoon packages include champagne, massages and a private dinner with personal butler. Spectacular weddings are held under the canopy of an Amarula tree surrounded by flaming bamboo torches. More about Ulusaba Private Game Reserve.
The ultimate Maldives
There are dozens of islands to choose from in the Maldives. If you really want the "wow" factor, Huvafen Fushi fits the bill. Each villa at this barefoot luxury island resort has its own private plunge pool and a butler on call around the clock. Get a treatment at the underwater Aquum Spa. Another A-lister is NIYAMA Maldives, which covers two islands and 87 secluded beach and water studios, most with at least one private pool. It has a 24-hour spa.
South Africa and Mauritius
It's the classic combination, whichever way you want to do it. The specialist operator Mahlatini has a number of South Africa and Mauritius itineraries including this classic safari and beach honeymoon  which combines Kruger National Park with the Heritage Le Telfair resort in Mauritius. Most people opt for a safari first then time to relax on the beach, but it can work better the other way round: after an exhausting wedding you might want the beach first, recharge your batteries then head out on safari.
7 Ways to Cut the Cost of Your Honeymoon
1. Flaunt your status. Tell your travel agent, tour operator or hotel that this is your honeymoon – you may be surprised by how many extras are thrown in from room upgrades to flowers and fruit in the room on arrival and a candlelit dinner or two. And don't be afraid to barter on room price.
2. Try some DIY pampering. You might not be flying business or first class, but you can buy a lounge pass relatively cheaply with companies such as Holiday Extras. And pack a soft pashmina which doubles as a blanket and a lavender pillow to aid sleep. Buy duty free champagne at the airport and pack a scented candle for your room.
3. If you don't have the cash for a swish honeymoon, find a tour operator that offers honeymoon vouchers for your wedding guests to buy for you. They can be put towards a flight or room upgrade, an exciting excursion or a sunset cruise. Check out Mahlatini.
4. Tour operators and hotels are noting that guests are booking later and later. However you probably don't want to take such a gamble so book as early as possible for the best deals. If you have left it late, see my guide to last minute honeymoon deals.
5. Choose a destination where the exchange rate is good. Go outside the Eurozone to Turkey or Egypt, or further afield to Cape Verde or South Africa.
6. Stay in the UK to save on travel costs and go self-catering. If you book far enough in advance (up to a year), you can find some beautiful, low-cost options. I recommend you look at Rural Retreats for cottages in England (see their special offers).
7. Go out of season. For example, the British summer is the peak time for weddings, but it's the low season in the Caribbean, so you can pick up some cheap honeymoon packages.
>> What are other people spending? Here's a guide to what you should spend on a honeymoon.
Last updated: 11 April 2022
Fixed your wedding date? Now select a month
January | February | March | April | May | June | July | August | September | October | November | December