Honeymoons with a Baby
By Jane Anderson, Editor of 101 Honeymoons
Going on honeymoon with your baby may sound like a contradiction in terms, and perhaps 50 or so years ago it would have been frowned upon. But today, it's not unusual to tie the knot after having a baby. After all, you don't want to leave them for a significant amount of time when there's breastfeeding to be done and cuddles to be had.
Couples may feel that having a baby will curtail any exotic honeymoons, but that shouldn't be the case. With the right planning and insider knowledge, you can have as romantic a time as ever with your little one.
Below, I pin-point resorts that are fabulous with babies and are ready to take over childcare when you want time for just the two of you. And if you're looking for a babymoon, see our tips on where to go on holiday when you're pregnant.
Unlike older children, babies can't dictate where you go or what you should do, so make the most of this while it lasts. Locals in many countries will make a big fuss of babies, add in the fact that you're on honeymoon, and you'll all be treated like VIPs. It's not only places like the Mediterranean that's well known for loving children, but the Caribbean, the Indian Ocean and certainly the Far East. If you are up for taking your baby somewhere exotic, you'll be rewarded in attention.
Of course, you have to be realistic. New parents are stalked by fatigue; they are sleep-deprived and irritable, so you have to be the type of couple who are up for an adventure with baby. Also the type of couple who plan ahead.
You must be prepared for the 'raised eyebrow' brigade – those unsympathetic fellow travellers who seem generally peeved by the mere presence of anything in nappies. However for every one of them, there will be 10 people cooing over your child. I have even been congratulated coming off flights on how well I coped with my baby.
You need to be extra vigilant with things like sun, heat and water. Don't go to the Caribbean or the Mediterranean in mid summer when it's searing hot. Better to go in shoulder seasons (spring or autumn in the Mediterranean; winter or spring in the Caribbean) when it's cheaper anyway.
Fortunately, there is a good range of caring travel operators that offer everything from self-catering cottage breaks to mollycoddling at luxury resorts to make your honeymoon with baby the dream holiday it should be.
When to go?
Don't travel to a destination when temperatures are too high as this won't be good for baby. Try to travel outside of school holiday times as flights and room rates will be a lot less expensive.
Does my baby need a passport?
If you are in the UK, whatever age your baby, he or she needs a valid, five-year passport. The irony is, of course, that if you get a passport when they are a few months old, they will be virtually unrecognisable from the picture when they are five.
Application forms are available from post office branches that offer the passport "check and send" service. You can also complete the application form online. It will be sent to you to sign and return with the supporting documents. Or you can request a form online and it will be sent to you in the post. Find more here.
When you apply, you need to supply:
• A completed application form.
• Two identical colour photographs. The best plan is to go to Snappy Snaps, a high street photographer or sometimes your local pharmacy for regulation size and quality with no toys or objects in view. One photo must be signed by a professional who has known you for at least two years. If you have a digital photo that you've taken at home, the website Paspic.com checks that your photo is acceptable before creating the passport pictures for you.
• Original documents to prove your baby is British, such as his or her birth certificate and British passport details for you and your partner.
• Payment of £69.
The passport should take about four weeks to come through. If you really can't wait to travel, there's a one-week fast track service costing £99. Full details here.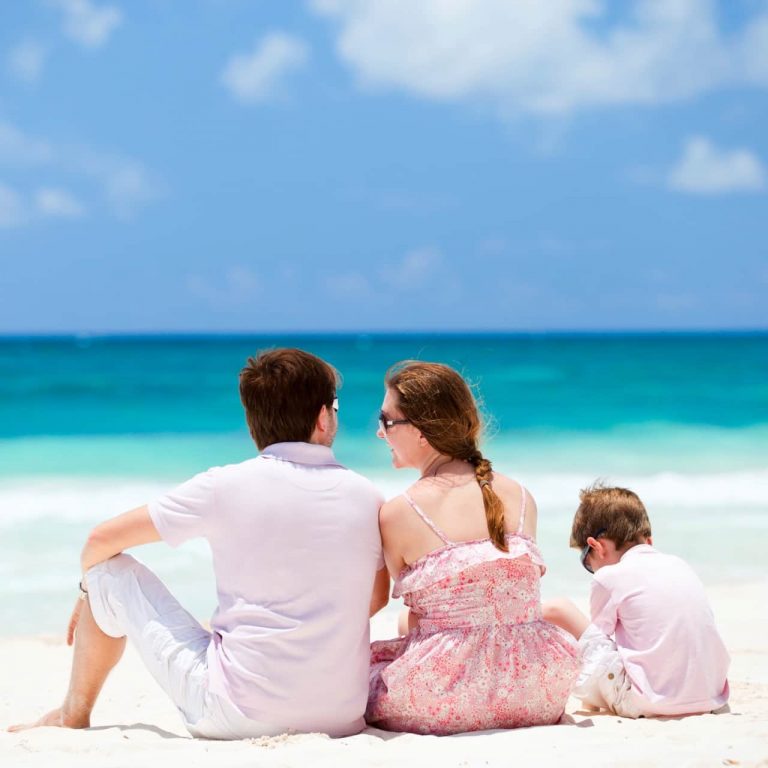 Flying with your baby
Babies are not only perfectly portable (which stops being the case when they become toddlers and begin to walk, constantly wanting to be up and about all the time), but they also usually travel free of charge. Make the most of this while you can. Airfares start to kick in once they are two and zoom up to adult fares aged 12.
Plan with military precision for a flight with your baby – especially long-haul. Request bulkhead seats where skycots can be fitted and don't forget to pack all baby essentials in your hand luggage. Feed your baby on takeoff and landing to reduce discomfort caused by changes in air pressure and don't be afraid to ask flight attendants for help, warming milk and baby food, etc.
Try to travel outside the main holiday seasons when airports and flights are less busy – and try to fly direct.
Virgin Atlantic has a useful page on flying with babies. It covers age limits on flying, whether you're allowed to take baby milk on the aircraft and even the exact dimensions of baby cots on board.
Similarly, British Airways has a useful section with info on family bays for airport parking, hand luggage allowances for kids and so on.
Baby friendly destinations for honeymoons
You don't want to compromise on romance just because baby makes three. And nor should you. There are some fabulously romantic hotels that make travelling with a young child relatively stress free. Look for hotels that have facilities for babies such as high chairs, cots in the room, toys, crèche facilities and even might arrange for various baby paraphernalia to be ready and waiting for you when you arrive. You should also enquire about baby food in the restaurants.
Self-catering has the advantage of being more like a home from home where you don't have to order a bottle of milk on room service that inevitably arrives at the wrong temperature.
You also need to make the decision about whether you're prepared to brave the airport with baby or whether you stick to piling everything in the car and staying in the UK or taking a ferry or the Channel Tunnel to various European destinations.
These days, ferries are surprisingly sophisticated and there's none of the luggage restrictions of flying. Some ferry operators will also offer the option to book a day cabin – even on short crossings. This is a great option for a baby to be able to have their nap undisturbed and for parents to chill out in peace. Remember to take everything you need during the crossing separately as you won't be able to go back to your car while you're in transit.
Honeymoons with baby in the UK
Ditching all the fuss of flying and being able to pile all your baby paraphernalia in a car is a boon especially when there are so many amazing places to stay in the UK these days.
Sands Resort Hotel in Porth, near Padstow and Newquay, is somewhere you could opt for as a couple for a romantic getaway – watch the sunset from your bed and chill out in the steam room after a day surfing. It really pushes the boat out for new parents, providing everything from family suites to free bottle warmers, sterilisers and a baby-listening service.
With all the expense that comes with starting a family, many new parents are understandably counting the pennies. A self-catering cottage holiday offers excellent value, particularly outside the school holidays. Classic Cottages has 50 particularly baby-friendly properties in Cornwall, Devon and Somerset, while Sykes Cottages is a good bet for those parents happy to pop baby in a papoose and head for the fells of the Lake District or Yorkshire Moors, for example. Also check out Rural Retreats and Helpful Holidays.
See my full recommendations for honeymoons in the UK.
Honeymoon with baby in Europe
Sani Resort in Halkidiki, Greece, is one my favourite honeymoon spots that is genuinely baby friendly. Not only is it a gorgeous resort with fabulous beaches, suites, restaurants and swimming pools all based round a buzzing marina, but it offers new baby swimming lessons, "babe watch" service where couples can leave baby for 30 minutes with the Sani staff on the beach who will look after them while parents go off for a swim or read a book. There are oodles of posh nosh options for tots including delicious organic purees.
With new extended crèche and babysitting hours, parents can now enjoy evening meals on their own while their baby is being supervised and kept entertained – choose from one of Sani's 16 restaurants and bars. Sani also offers three beautiful spas for parents to enjoy couples treatments. I particularly recommend Porto Sani Village because there is a children's pool and an adult only pool there – and it's really low rise and easy with prams.
I can't fault Forte Village on the southern tip of Sardinia. A cluster of eight hotels, it offers just about every leisure facility and childcare option you can imagine – a paradise for honeymooners and babies alike.
The five-star Daios Cove on the island of Crete has a renowned Scott Dunn Explorers club where babies as young as four months can enjoy fun and games with qualified childcare professionals – not to mention a complimentary supply of swim nappies.
Slightly further afield, the Canary Islands are a great year-round destination, with a wide choice of baby-friendly accommodation. Our top picks for parent pampering and family facilities include Lanzarote's Princesa Yaiza Hotel and The Ritz-Carlton Abama on Tenerife.
Also try Club Med, which has around 20 all-inclusive resorts in Europe and beyond offering childcare for babies aged from four months. The Baby Club Med programme revolves around your child's sleeping and feeding patterns and includes plenty of stimulating activities.
Newlyweds with baby will also appreciate self catering villas. Try Cachet Travel for villas on Crete, Vintage Travel for properties on Mallorca.
Brownie points for Vintage Travel, which not only has a fantastic array of villas right across the region, but also lists villas with fenced pools – an essential requirement if you've got a baby that's discovered the liberating joys of crawling.
CV Villas have a good choice of family friendly luxury villas throughout the Med, many with fenced or gates pools. i-escape is well worth a look for gorgeous houses, villas and boutique hotels suitable for honeymooners with a baby. Go to its With kids pages and there's even a section for babies.
Long-haul honeymoons with baby
The exotic destinations favoured by honeymooners such as the Caribbean and the Indian Ocean are still doable with baby, but there are pitfalls to watch out for. If you heading to the Caribbean, choose an island with direct non-stop flights from the UK and bear in mind there is a five or six hour time difference which means your baby will most likely be waking up around 4am for the first couple of days. Heading south rather than west is a better plan for avoiding time differences, such as Dubai and the honeymoon favourite of Mauritius.
For the Caribbean, I would recommend Jamaica, Barbados and St Lucia, all with direct flights. Choosing a child friendly hotel is essential, but luckily there are many in the Caribbean that combine romance with kids. Round Hill in Jamaica is perfect with amazing nannies, very gentle, protected shelving beach, stunning villas as well as rooms and all an easy 30-minute transfer from Montego Bay airport.
Other good resorts are Spice Island Beach Resort in Grenada, Coral Reef Club and Windjammer Landing in St Lucia and pretty much any five-star in Grand Cayman. If you want something more boutique, Little Good Harbour in Barbados is surprisingly baby friendly.
When it comes to the Indian Ocean, Mauritius is a top choice for honeymooners with a baby and there's virtually no time difference. Beachcomber Tours' superb line-up of family-friendly hotels are high on romance too.
For more adventurous couples, the Maldives is becoming increasingly child friendly. New all-inclusives such as Atmosphere Kanifushi are good choices as are the fabulous One & Only Maldives Reethi Rah and the swanky new Maalifushi By COMO with baby sitting services and kids menus.
Last updated: 14 February 2019