How Much Does a Honeymoon in Bali Cost?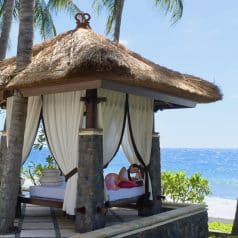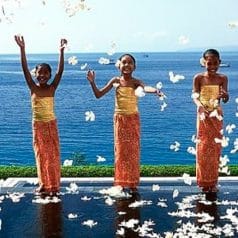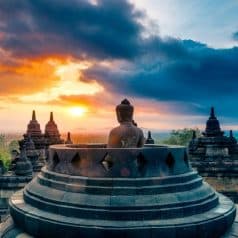 By Kate Lee
Bali is a dreamy honeymoon destination. It is a friendly, laid-back island with a bohemian and spiritual heart. The island's beaches are stunning, with perfect waves for surfing, but the highlight of Bali is its interior. Take your pick from rice terraces, active volcanoes, traditional villages and beautiful Hindu temples.
How many days should you spend in Bali?
Two weeks is a great amount of time to spend in Bali, giving you plenty of opportunity to explore the island but also kick back, relax and take it all in from a hammock. With three weeks you could add in an island-hopping trip, or spend a few days at a stopover city destination such as Kuala Lumpur, Hong Kong, Bangkok or Singapore. See this guide to Bali.
When is the best time to travel?
The optimal months to visit Bali are April, May, June and September as the climate is agreeable but flight costs are lower than in the peak months. Anytime from April to October is good for weather: dry and hot with temperatures around 28°C-30ºC. May is the hottest month. Flight prices will peak during the school holiday months of July and August and again over Christmas and New Year.
Bali's rainy season runs from November to March, when it remains warm at an average of 26°C but humid. Skies can be cloudy, so this is a good time to visit if you plan to go trekking. Some great flight deals can be found.
Find out more about the best times to visit Bali.
Bali honeymoon resort costs
There are some breathtaking accommodation options in Bali that are extremely good value for money. Booking a four-star suite with breakfast may cost as little as £40 pp per night. A five-star suite may cost from £115 pp per night. A luxury villa with views and private plunge pool may cost up to £500 pp per night.
Most hotels offer full board, but all-inclusive is not generally an option. The most popular choice is to go for breakfast only, unless you are staying very remotely, as food and drink is so good and cheap outside of hotels.
Another popular option for honeymooners is to book an island tour. Tours are also very good value, and take the hassle out of organising anything. Tours cost from £2,000 pp for 14 nights including flights, accommodation and food.
Flight costs to Bali
Flights to Bali cost around £650 pp, but will be pricier during school holidays. Premium economy costs about twice as much. Business class is three to four times as much. A wide range of carriers flies to Bali including Emirates, Singapore and Qatar. Malaysian Airlines can be good value, as can Garuda. It is also worth looking at direct flight costs to Singapore then a separate flight through a budget carrier such as Air Asia.
There are no direct flights to Bali from the UK. You can fly via a European hub, or an Asian one. Flight time is from 16.5 hours with Singapore Airlines including a 50-minute change of aircraft in Singapore. More likely is a flight of around 22 hours with a three-hour layover. Most flights are overnight. Bali is 8 hours ahead of the UK so expect some jet lag.
Most tour operators will book both the flight and hotel for you, so bear the above price factors in mind when you decide what budget to set for your honeymoon. If you decide to book your hotel and flight separately, remember that you have much less consumer protection.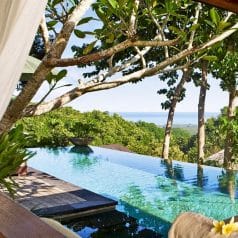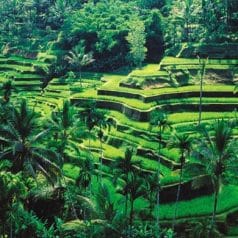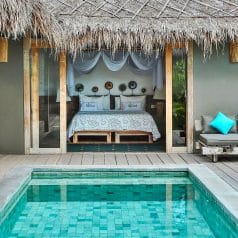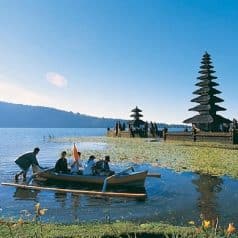 Are there any other costs before I go?
Visitors receive a visa on arrival. However you will need to ensure you have your MMR, Diptheria/Tetanus, Hepatitus A and Typhoid vaccinations up to date. You may want to discuss having the rabies vaccination too. The risk of malaria is very low in Bali, but if you travel to nearby Lombok, there is a greater risk.
How much money should I take to Bali?
Bali is a gorgeous island that is worth exploring. Amelia Curran from Experience Travel Group says: "Bali is very diverse considering its small size. There are lots of things to do depending on your interests." She recommends an overnight trek up a volcano to see the sun rise, or travelling to Komodo to see the dragons. Day tours in Bali cost from £30 or car hire plus a driver costs from £50 per day. Though cheap, public transport is not a viable option to see tourist sites.
The island is well-known for surfing, yoga and meditation, and there are many drop in yoga classes at around £5 should you not want to do a full retreat. Many hotels offer yoga free of charge. Spa treatments cost from £10. Surfing is available along the south of Bali and costs from £5 for hire of board and £35 for a lesson.
Local food costs from £3 and a top class meal from £35. Tipping is appreciated. ATMs are widespread in busier areas but take cash if you visit remote or rural regions. Both US dollars and the local rupiah are accepted as currency.
Sample budget and what it gets you
£1,190 per couple will buy 14 nights bed and breakfast in a boutique villa at The Damai, complete with outdoor shower and ocean view. Book with i-escape.com. Flights are not included and will cost from £650 per person.
£3,724 per couple will buy 14 nights bed and breakfast at luxury resort and spa The Bale, in a one-bed pavilion with private pool and outdoor shower. Also with i-escape.com. Flights from £650 per person.
£2,950 per person will buy a 16 day Bali Explorer tour with Experience Travel Group inclusive of flights, accommodation, meals and private guide.
What is the cost of getting married in Bali?
You can get married in Bali but it is not that common. For it to be legally binding, you must have a legal and religious ceremony. If you are not religious, you can just have a symbolic wedding, and carry out the legal paperwork back in the UK.
Honeymoon money saving tips
Experience Travel Group advises that logistics can bump up costs. "If you are trying to save money, do less geographically. Don't travel around the island(s) too much, or do a stopover. Do one area really well and don't try to cram too much in," says Curran.
Alternative honeymoon destinations
Bali is generally good value. Sri Lanka is another country to consider which may be slightly cheaper.