How Much Does a Honeymoon in Mauritius Cost?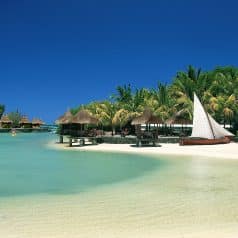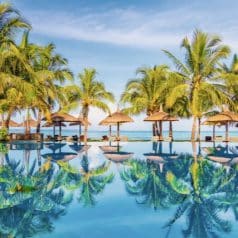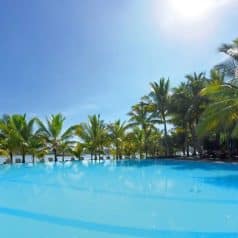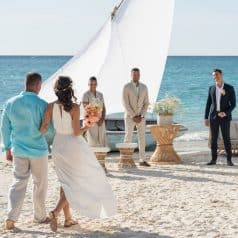 By Kate Lee
With its tropical climate, emerald green interior and coconut palm fringed beaches, Mauritius is an ideal honeymoon destination. You can expect world class luxury resorts, impeccable service, excellent cuisine and a warm welcome. And to top it all, it's great value, especially if you go all-inclusive.
I recommend you book with a trusted tour operator. Follow the links below for details of dates and deposits.
How many days should you spend in Mauritius?
Mauritius expert Amy Matthews from Tropical Sky says: "Go for ten nights or more so you can truly take the relaxed Mauritian lifestyle on board and have enough time to enjoy the hotel, the amazing cuisine and the local island experiences." With three weeks, you could add on an island hopping trip, or fly to Rodrigues, Mauritius' smaller and quieter sister island.
When is best time to travel?
Mauritius is a year-round destination. It has a tropical climate with an average of eight hours of sunshine a day. The wet season runs from November to April. Temperatures average 28°C but humidity is high and there may be short rains and a risk of cyclones. December and January are the hottest months with temperatures hitting 35°C. The dry season runs from May to October. Temperatures are cooler at 24°C and it is drier. July and August are the coolest months, which is great if you want to go hiking. It is also windier from June to August, especially on the east coast, which is perfect for wind sports. December to March is the best time to go diving as the sea is clear and calm. See more about the best time to travel to Mauritius.
Mauritius honeymoon resort costs
There are many accommodation options, from room-only up to all-inclusive. Self-catering is available, but as the standard of service is so good in Mauritius it is not a popular option. Resort food and alcohol is expensive, so if you plan to stay in the resort for most of your honeymoon, it will be better value to go all-inclusive.
Booking a room only at a three-star resort may cost from £55 pp per night. At a five-star resort, a room may cost up to £235 pp. An all-inclusive package at a three-star resort may cost from £70 pp and up to £330 at a five-star resort. Costs will increase depending on what type of room you go for. Resorts will have a standard room only option, up to a villa, with infinity pool, beach access, butler and separate living area. These luxury villas can cost up to £850 pp.
Flight costs to Mauritius
You can fly direct from most major airports in the UK to Mauritius, though it is usually cheaper to take two flights if you can afford the extra time it will take. Both day and night flights are available. The flight to Mauritius is 12 hours long. However, Mauritius is only four hours ahead of the UK, so jet lag should be minimal.
Many airlines fly to Mauritius, including British Airways, Virgin Atlantic and Emirates. TUI offer a charter flight, which is good value. Air Mauritius is another value option. Return flights can be as low as £375, though usually cost from £650 upwards.
Upgrading is an option, but is expensive. Premium economy is around three times as much, and business class can cost four times as much. Your tour operator may be able to get you a one leg only upgrade.
Mauritius does not have a low season, so it can be difficult to find bargains. Christmas, the New Year and school holidays will be pricier. Cavadee, a Mauritian festival in January/February also pushes up flight prices.
Most tour operators will book both the flight and hotel for you, so bear the above price factors in mind when you decide what budget to set for your honeymoon. If you decide to book your hotel and flight separately, remember that you have much less consumer protection.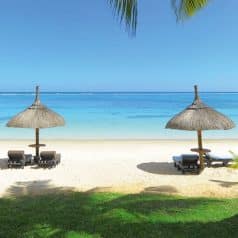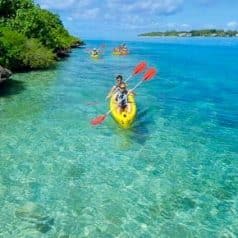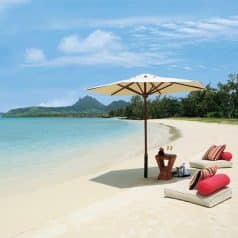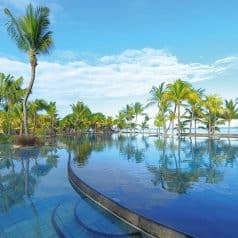 Are there any other costs before I go?
No. No special vaccinations are required for travel to Mauritius and a visa is given on arrival.
How much money should I take to Mauritius?
Check what activities are included in your resort costs. Many watersports, yoga and golf are often part of the package. Deep sea fishing, dolphin and whale watching, rum tasting, spa treatments and diving may also appeal but will generally be an extra cost to budget for.
Sights to see on the island include Port Louis, the Black River Gorges National Park and the Pamplemousse Botanic Gardens. There are many minibus trips available to these sights or taxi hire is an option. Car hire is also a popular way to get around. Taxi hire for the day is around £50-£100 and car hire starts at £25.
If you eat out of your resort, expect to pay £5 for street food for lunch and £40 in a mid-range restaurant. Tipping is not generally expected. Resorts may add service charge, or there may be a tipping box.
ATMs are widespread and major credit cards accepted. The local Mauritian rupee is preferred as currency so change money before you get to your resort. There are currently around 45 Mauritian rupees to the pound.
Sample budget and what it gets you
Veranda Pointe-aux-Biches – £1,199 pp (at selected times of year) will get you seven nights all-inclusive at a four-star resort, flying economy.
Miradiva Hotel – £5,289 pp will get you stay 14 nights half-board in a five-star resort, flying business class and upgrading to a beachfront pool suite.
See more about our recommended honeymoons in Mauritius, plus luxury options and how to combine Mauritius with South Africa.
What is the cost of getting married in Mauritius?
It can be much cheaper getting married abroad than in the UK, though you have to factor in who will be able to afford to travel out there to celebrate with you. Some resorts and tour operators offer wedding packages, and they can be incredible value if booked alongside a honeymoon.
Weddings costs from £340. This includes an exclusive venue, wedding cake, registrar fees, witnesses (if required), local wedding coordinator, transfer to and from the civil status office, plus perks like a candlelit dinner.
Honeymoon money saving tips
Tropical Sky advise booking as far ahead as possible to take advantage of early booking offers. Being flexible on dates can help secure a great deal. Resorts often upgrade honeymooners or give perks such as room upgrades, free spa treatments. Check before booking.
Alternative honeymoon destinations
The other two Indian Ocean options, the Seychelles and Maldives, tend to be pricier than Mauritius. The Caribbean is an alternative destination that you could consider.
Last updated: 14 May 2021